Active School Week 2019 (10th – 17th June)
Day 6: Zumba
The hall was alive with the tap of children's "happy feet" on Monday 17th June. The opportunity arose for each class to partake in a lively Zumba dance lesson with great tunes and easy steps to follow and the kids and teachers had great fun!!
Day 5: Sports Day
On Friday 14th June the entire school participated in our Sports Day.
Water station
Day 4: Welly Throwing Competition
Despite the damp afternoon on Thurs 13th June, the children from all classes took part in our welly throwing competition. Needless to say , the launch of boots resulted in quite a few going up, but not coming down!!!
Lets hope the wind returns to bring them back to earth from our hall roof!
Thanks to the Active School Committee who kept track and score of the boots.
Day  3: Senior Tour
On Wednesday 12th June our Senior Tour (2nd – 6th) took place to Baysports, Athlone for lots of water based activities. Despite the cold and damp weather the girls really enjoyed themselves. Needless to say a stop off at The Obama Plaza in Moneygall was very welcome after all those physical activities!
Day 3: Junior Teddy Bear Picnic
The weather cleared up a little enough to have some teddy bear races!!
Day 3: Junior Teddy Bear Picnic
Despite the poor weather conditions on Wed 12th Jun, the children in Junior Infants to 1st class still partook in their "Teddy Bear Picnic" , although indoor style for a change. Bears of all shapes and sizes were to be seen, and seemed to have as much fun as their owners!!!
Day 2: Skipping – Senior girls in action
Junior Tour to Canon Hayes Recreation Centre, Tipperary Town & Cinema – Monday 10/6/19
Obstacle Course & soccer
Mrs. Ryan's last Junior Tour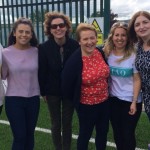 We've worked up an appetite after all those games!! Time to see "The secret life of pets 2″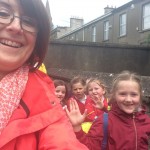 Active School Week 2018 (11th – 18th June)
Tennis Coaching on Thursday 14th & Tuesday 19th June
Welly Throwing – On Tues 19th all classes gathered in the yard to cheer each other on in our annual welly throwing competition. Some people were just a little more accurate than others ….!
Senior Tour – Monday 18th June – Dublin,G.P.O, The Zoo & Butler's Chocolate Factory
Sports Day – Friday 15th June -
As usual the children came to school wearing their team colours.
A great menu of activities was put together for the day with team co-operative games in the hall …
Races and games in the field …
and watery fun in the yard! Well done to all the captains who led by example and showed great patience and encouragement for all their team!
Yoga – Thursday 14th June
On Thursday 14th June each class received a 30 min taster session of yoga as part of Active School week. Here we learned about our breathing, the superman pose, the cat and cow, the plank, the cobra, the surfer, the tree and the sun salutation but to name a few.
Some of us were a just bit more flexible than others…
A big "Namaste" to our instructor David Russell from School Fitness Ireland who was incredibly patient with everyone on the day, and it was great to try a new, quieter more mindful activity for a change!
DoneralePark Adventure Walk – Wednesday 13th June
Warming up with a little playground fun!
And we're off!
Phew, this is a long walk!!
At one with nature!!
Olympic Torch Run – Tuesday 12th June
On Tuesday 12th of June Scoil Mhuire Gan Smál had the great honour and privilege of hosting the arrival of the Special Olympics Torch: The Flame of Hope and it's accompanying garda athletes on this leg of their journey.
A very warm welcome was extended to some of the Special Olympic athletes who will be participating in the Games this year and with a lot of cheering and torch waving, the Flame of Hope arrived!
It was with great delight that we could also welcome a past Olympian of 2002, Niamh Luddy and her father Johnny to the ceremony and celebration and Niamh proudly brought her medal for the occasion.
From fundraising earlier in the year, a cheque for 550 euros was presented by Mrs. Ryan to the Special Olympics squad, while the school was in turn presented with a certificate to mark the occasion.
Many thanks to to all the parents, children, guards, athletes and their carers, B.O.M members and everyone who participated in such a wonderful celebration! Wonderful memories were created today!
Another great big thank you to Cáit and Orla from The Tipperary Ladies Camógie team who so generously gave their time to be with us here today and was a great boost to our two u11 teams taking part in the County camogie finals in Semple Stadium.
Teddy Bear Picnic – Tuesday 12th June
Junior Infants & 1st class, time for a snack!
Senior Infants: all that fresh air is making us hungry!
Fun and games with our bears.
Junior Tour (Juniors, Seniors & 1st class)
En route to Leahy Open Farm, Midleton, Co. Cork, Monday 11th June. First activity: The climbing frame!
The woodland activity trail
Meet the monkeys on the monkey bars!
Barreling around the farm
Meeting some of the residents! Humphrey the camel and his friends.
Welcome to the Fairy Fort maze. Now you see us… Now you don't, Who can ring that bell first?
Making a wish in the Leprechaun Cave
Shhhh! don't disturb the animals!!!  Who' feeling brave?
Farmer Eddie's original homestead
2.00pm, and it must be pig race time and it was Dubh all the way!!
The last 10 minute play and it was hometime. Tired but very very happy!
Active Schools Week 2017
Field games & water challenge
Sports Day – C0-operative team games in the hall
Teddy Bear Picnic
Welly Throwing Competition
Junior Tour 6/6/17 to Fota, Cork
Senior Tour 19/6/17 to Kilkenny
Active Schools Week 2016
Throughout Active Schools Week, physical activity was promoted in a cross-curricular way throughout the school. For example, history was taught through the local walking tour (Junior Infants – 4th Class) and 5th and 6th Class went on a trip to the Rock of Cashel. SPHE/social skills were promoted during Teddy Bear's Picnic. These are but a few examples of how Active Schools Week was a cross-curricular experience.
Tennis:
On Monday, Tuesday and Wednesday, girls from 3rd – 6th Class took part in tennis lessons in the local tennis club. They were taught by a teacher coach named Sinéad. All girls thoroughly enjoyed this activity whether it was their first time playing tennis or their 100th time!
Welly Throwing competition:
Monday saw a Welly Throwing competition for each class. The children were given the chance to be the best Welly thrower in their class! This was a serious competition as the winner received points for their team for Sports Day.
Poc Fada/Cic Fada
Monday was a busy day as it also saw 1st – 6th class taking part in a poc fada and a cic fada after that. This was very competitive again between each class and nobody was giving an inch. The girls on the Active School Committee must be commended for their help in running the Welly Throw, Poc Fada and Cic Fada.
Junior School Tour:
On Tuesday, pupils from Juniors – 1st class went on their active school tour in Tipperary Town. First stop was the leisure centre. The children were taken by experienced instructors and put through their paces with a variety of activities. After lunch, it was cinema time! We went to the Excel Theatre to watch Angry Birds. All eyes were glued to the screen which topped off a great tour.
Local Walking Tour:
Children from Juniors – 4th went on a local walking tour of the area. The children visited Lena Rice's grave (Wimbledon Champion in 1890), the old Garda Barracks, the Marian Statue, the old Post Office and the church graveyard. They learnt a lot about their area and enjoyed exploring it.
Teddy Bears Picnic:
Juniors – 1st class brought in their teddy bears for a very special picnic. They enjoyed showing off their teddies and playing games with them.
Rock of Cashel Tour:
The girls from 5th and 6th travelled to Cashel to explore the Rock of Cashel. Even though it is on our doorstep many had not visited it before.
Class Marathon:
The pupils from 2nd – 6th class took part in a class marathon in the local GAA grounds. All girls tried their hardest and they ended up running two marathons in total – not many of us can say we have done that!
Penalty Shoot-Out:
We had two brave parents who were very generous to volunteer their time to stand in goals for a penalty shoot out. The girls enjoyed this immensely, Pat O' Connor and Sandra Fitzgerald also seemed to have had fun! Pat also got the chance to take a penalty of his own!
Senior School Tour:
The senior school tour brought us to Baysports, Hodson Bay, Athlone. It was a wet and cold day but this didn't bother the girls from 3rd – 6th class. They got to try out a variety of activities, inside and outside the water. The girls really enjoyed the day and many even suggested it was their best school tour!
Sports Day:
The week ended with Sports Day on Friday. There were eight teams, each team including pupils from every class. All teams got a chance to take each other on at one of the four activity areas. The activity areas included two novelty games areas, an athletics area and a penalty shoot out area. To top the day off, the children donated €2 in support of Down Syndrome Ireland where they received an ice-cream each after a day of hard work!
Sports Day – Water Obstacle Course. Who can reach the end without spilling a drop!